Property N 68: Luxary houses for sale in Sofia
HOUSES AND YARDS, Sofia
Property Request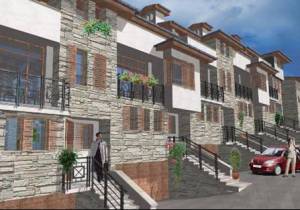 Location
:
Sofia
, City (
MAP of location
)
Price per sq. m.
: 900 EUR
Living area
: 250-320 sq. m.
Road
: Asphalt road
View
: mountain view
Status
: For sale
Description
Location
The complex " Saint George " is situated in the skirts of the mountain Vitosha, located in the west part of the country, in the capital Sofia. The city is located in the hollow of Vitosha and the climate is temperate – continental.
Main priority on the city is the immediate nearness to the mountain, on which slopes are situated some of the most prestigious quarters of the city, among which is Dragalevci. This allows the residens to relax from their rush workday by walking in the forest or running down on the snowbourd racing tracks.
The complex is situated in one of the quietest quarters in Sofiq, in the solely foot of the mountain and at the same time only fifteen minutes away from the center of the city
The complex
" Saint George " is a self – contained residential complex, consisted of seventeen one-family houses, situated in a rich greenery park environment.
The complex has a round the clock guard, controlled car access and a constant video surveillance. On its inhabitants disposal are planned a caf
й with spacious teracce , a prime necessity goods' store, hall for family ceremonies, sport hall with sauna, barbecue, children' s playground and a chapel.
The buildings are situated thus , that all of them have incredible view to the mountain and at the same time are a part of an exuberant park.
The houses' areas vary from 250 to 320 sq. m. Every house has its own half- uderground garage. On the ground floor is situated a kitchen, a dining room and a spacious living room with fireplace, which come out on a fenced off independent side of the yard. On the first floor there are two bedrooms with balconies and bathrooms.On the second attic floor are detected two more bedrooms with bathrooms and each of the rooms can be used as a study.
All the buildings in the complex are treated in general style, which brings the spirit of the traditional Bulgarian house, with typical slope roofs, white bow – window, wood parapets and forking iron and wood work.
The whole complex is floating in greenery just like the traditional Bulgarian house. The yard is held up by special personnel. The park is laid out with grape vines, rockery, different bushes and trees. The benches and decorative park elements are unusually pleasant places for rest, relaxation and play for the children.
Amenities
Gallery