Property N 38: New luxury villas near Sunny beach
HOUSES AND YARDS, Sunny Beach
Property Request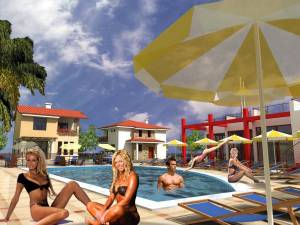 Location
:
Sunny Beach
, Sea resort (
MAP of location
)
Price
:
GBP:
55100
EUR:
79900
Price per sq. m.
: 761 EUR
Living area
: 105-161 sq. m.
Yard
: 308-547 sq. m.
Road
: Asphalt road
Status
: For sale
Description
Vacation property, permanent residence or just investment - it depends on your needs and ideas- marvelous mountain views, tranquil region, fresh air, unique performance and style of the property.
"David Flynn Property"Ltd is offering to you the possibility to purchase new luxury lovely villa built in the complex near Sunny beach.
The exclusive developments of 16 luxury two storey villas with fantastic mountain views is wonderfully located in a quiet, picturesque and secluded valley at the foothills of the Balkan Mountain.
The complex villas are of a semi-traditional design, with all the modern facilities required for a permanent residence or holiday home. The villas are designed to be built in national style, the developments will combine modern design with the beauty of the traditional building.
The location in a quiet and secured area, the swimming pool and the barbeque area will provide the ideal atmosphere for a holiday.
There are four villa types from which to choose, ranging from two to four bedrooms, each benefit's from car park spaces, covered terraces and balconies. Each villa is situated on its own private plot, ranging from 308 m2 to 450 m2 in size. All plots are big enough to have a private swimming pool on it.
The village Gyulyovtsa is situated near by the famous Black Sea town resort – Nessebar with its architecturally authentic houses and well-preserved ancient churches . One of the oldest towns of Europe , located on a small peninsula . The town bears witness to the developments of several civilizations. Once there were more than 40 churches. Nessebar is included in the UNESCO list of world heritage.
The airport and city of Bourgas are only 30 minutes drive away.
The developments is also just 12 km away from the top famous sea resort of Sunny beach well-known by both native and foreign toursits for ist numerous attractions and beauty.
The complex will have a well sized swimming pool with a restaurant and a bar and 24hours security.
Excellent Location - near the Mountain and the Beach
1 2 Minutes to the Sea
1 2 Minutes to the beach resort Nessebar
1 2 Minutes to the most popular Sunny Beach
15 Minutes to the beach resort Pomorie
10 Minutes to the New Planned Kabland Golf City Complex
20 Minutes to Burgas Airport
30 Minutes to Burgas City Centre
60 Minutes to Varna Airport
500 m from the complex will be built the new motorway to Varna
DESCRIPTION OF THE INTERIOR DESIGN:
All the villas will be fully completed without the furniture. Massive and PVC entrance doors; internal doors-MDF ; joinery work –PVC ; walls - plaster, ground coat, latex ; corridor and stairs: covering granite grace, parapets metal; living and dining room floor – laminate, kitchen floor- granite grace ; walls and ceiling-latex, light bodies, electric claims and switches-interior; bathroom and toilet WC -faience fully equipped sink, bath, shower, monoblock accessories, ventilator, mirror, boiler.
Type

Nr. of bedrooms

Living area

Plot in sq.m.

Price

A1

2 bedrooms - Detached

105.7

308

79 900 EUR

A2

2 bedrooms - Detached

105.7

308

79 900 EUR

A3

2 bedrooms - Detached

105.7

308

79 900 EUR

B1

3 bedrooms - Detached

119.2

308

89 900 EUR

B2

3 bedrooms - Detached

119.2

308

89 900 EUR

B3

3 bedrooms - Detached

119.2

308

89 900 EUR

B4

3 bedrooms - Detached

119.2

308

89 900 EUR

B5

3 bedrooms - Detached

119.2

320

89 900 EUR

B6

3 bedrooms - Detached

119.2

316

89 900 EUR

B7

3 bedrooms - Detached

119.2

308

89 900 EUR

B8

3 bedrooms - Detached

119.2

308

89 900 EUR

C1

3 bedrooms - Atached

116.9

308

84 900 EUR

C2

3 bedrooms - Atached

116.9

314

84 900 EUR

D1

4 bedrooms - Detached

161.1

473

109 900 EUR
including fully tiled
and equipt poo
6/4/1.5m deep

D2

4 bedrooms - Detached

161.1

519

109 900 EUR
including fully tiled
and equipt poo
6/4/1.5m deep

D3

4 bedrooms - Detached

161.1

547

109 900 EUR
including fully tiled
and equipt poo
6/4/1.5m deep
Amenities
Gallery