Property N 71: Hotel complex for sale near Borovets
INVESTMENT PROJECTS, Borovets
Property Request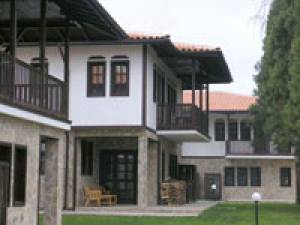 Location
:
Borovets
, Ski resort (
MAP of location
)
Price
:
EUR:
2500000
Road
: Asphalt road
Status
: For sale
Description
Hotel complex -Dolna banya
Dolna banya is situated in the western part of Bulgaria, at the foot of the opulent Rila mountain. The city is located 83 km away from Sofia and 15 min. by car from the golf course in Ihtiman. The proximity (a fifteen-minute drive) to the famous ski resort "Borovets" enables keen skiers to enjoy the excellent slopes and facilities in winter. During the rest of the year visitors can enjoy mountain biking and hiking as well as wine tasting.
The place is famous for its geothermal water springs. The water temperature is 67.8 0C and it is especially suitable for the treatment of cardio-vascular, skin, respiratory and rheumatic disorders, as well as diseases of the reproductive, digestive and nervous system.
The whole region of Dolna Banya features very mild and soft climate and has the largest number of sunny days in the Sofia region the year round. Over 20 nesting couples of white storks have been registered so far. The region is also famous for its quality brands of strawberries and raspberries.
The major SPA and Wellness Complex at the Balkan peninsula and super modern golf club "IBAR" are expected to be built in Dolna banya. The airport of Dolna banya is located nearby and there different demonstrations and trainings are organized for the people who take an interest in the extreme experiences.
Our offer – Hotel complex includes 9 newly built one-family houses, restaurant, administration, laundry room and a swimming pool. Ňhe plot area is 5 250sq.m. The complex is surrounded by a solid wall and 24 hours 7 days a week security.
The houses are fully furnished in a traditional Bulgarian style. The TBA of house N1; N3; N4; N5; N6 is 224,50sq.m. The TBA of house N2; N7; N8; N9 is 206,4sq.m. The architecture is typical for the Bulgarian revival period. Each house has a garage, fireplace, communications, (cable TV, Internet and phone lines) an automated electronic heating and air-conditioning system.
The first floor includes: entrance hall, kitchen, (fully equipped) dining hall, living room (both fully furnished with laminated flooring), rest room and a staircase to the second floor.
On the second floor there are: three bedrooms with bathrooms. All rooms have laminated flooring and the bathrooms are fully equipped.
The conference hall in house N 4 has a capacity for 40 people and provides a perfect opportunity for holding meetings and seminars.
Hotel complex is fully equipped and furnished.
The construction was finished in May 2005.
Amenities
Gallery