Property N 244: Cheap apartments for sale in Sunny beach
1-BEDROOM APARTMENTS, Sunny Beach
Property Request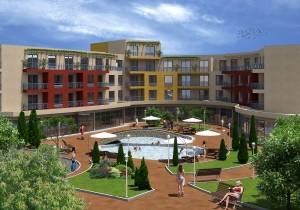 Location
:
Sunny Beach
, Sea resort (
MAP of location
)
Prices and Availability
:
13_05_2009_sunny_day_6_-_availability.xls
Price
: From:
EUR:
19320
Price per sq. m.
: 690 EUR
Area
: 28 sq. m.
Road
: Asphalt road
Status
: For sale
Description
Sunny Day 3 PREMIUM is designed to fit in as the shining jewel in the crown of Sunny Day complexes! Situated just next door to Sunny Day 3 - the best seller of year 2007 – Sunny Day 3 PREMIUM implements highest standards of Developer's substantial experience throughout the years.
The state-of-the-art gated complex offers sophisticated architecture and modern design. Three exquisitely combined sections provide 77 apartments with various size and optimal disposition. 29 studios, 40 one bedroom and 8 two bedroom apartments are luxuriously finished and equipped. Furniture packages at discounted prices are provided by the Developer as well.
Sunny Day 3 PREMIUM offers full set of amenities for a cozy stay within the complex: outdoor swimming pool, a snack bar, variety of shops, pizza restaurant, gym, lots of green areas, children's playground, etc. Car traffic is restricted and residents' parking spaces are within the gated complex.
Sunny 3 Day PREMIUM is located in the outskirts of Bulgaria's top summer resort Sunny Beach which offers a huge choice of attractions. Whilst you can relax away from the noise of the summer tourist season, yet you are less than a mile away from the world-famous wide sandy beaches and the biggest Aqua Park in Bulgaria! Also, the professional Golf Course designed by Gonzales & Jacobsen is just 4 miles away. The unique, picturesque town of Nessebar, protected by UNESCO and representing world's cultural heritage, is only 2 miles away. For residents only, the Developer organizes regular shuttle buses between Sunny Day complexes and the centre of Sunny Beach .
Sunny Day 3 PREMIUM stands at a distance of only 15 miles (20 min by car) from Bourgas International Airport and the all-year-round Varna International Airport is also some 60 miles away.
Completion of Sunny Day 3 PREMIUM is planned for 2009 and off plan sales are being registered with Developer's offices in Sunny Beach, Sofia, and London.
Deposit
To reserve a property in this development a deposit of 1000 eur is required.
Payment plan
First installment of 25% - by 30th of May, 2009
Second installment of 25% - by 30th of June, 2009
Third installment of 30% - by 30th of August, 2009
Fourth installment of 10% - by 30th of October, 2009
Final fifth installment of 10% - by 31st of December,2009
More information
The deposit is a non refundable amount in case through customer 's fault a property is cancelled and a Preliminary Contract with the Developer is not concluded. All apartments are offered absolutely finished and equipped. The price per sq. m. doesn't include the price of the furniture.
Completion of the apartments
All apartments come fully finished with the following:
floors: - laminate;
walls: - latex;
ceilings: - latex;
WC and bathrooms, completely finished and equipped:
- floor and walls – terracotta and faience tiles;
- mounted sanitary furniture, electric boiler, accessories and lighting fittings;
Window and door-frame glazing:
- plastic with glass-block;
Entrance-door: - MDF;
Interior doors: - MDF;
Electric appliances – mounted:
- electric switches and wall-plugs;
- electric lighting fittings;
External walls:
- faced with thermo insulation;
- processed with mineral plaster;
- Air conditioner is paid extra with the first installment . Price is 450 eur per unit .
Amenities
Gallery