Property N 245: Cheapest apartments for sale in Sunny beach
1-BEDROOM APARTMENTS, Sunny Beach
Property Request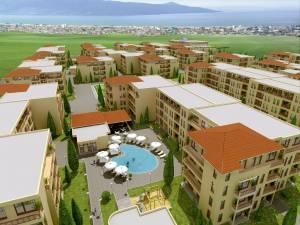 Location
:
Sunny Beach
, Sea resort (
MAP of location
)
Price
: From:
EUR:
9750
Price per sq. m.
: 390 EUR
Road
: Asphalt road
Status
: For sale
Description
We have the pleasure to present you unique development! With built up area of 72 000 sq. m., the project impress with its magnitude and functionality and goes beyond all other complexes.
But it is not only the size of the settlement that is impressive: a pleasant mixture of traditional Bulgarian architecture, optional building terrain and reasonable distance to the vibrant Sunny Beach offer all future residents the peace and coziness needed for a complete holiday. At the same time, the development has available facilities and entertainments of any kind: trade and spa centre, fitness and indoor swimming pool, cosmetic and hair styling parlors, restaurant-terrace, café and piano bar, supermarket and various shops, internet cafe and indoor amusements, medical centre, reception, etc. Five outdoor swimming pools, two tennis courts, two minigolfs, various sports fields, several different restaurants with bars, nursery schools and green areas for relax, as well as a contemporary multifunctional amphitheatre are proportionally spread all over the territory of the holiday settlement.the development is a confined residential community with restricted car traffic, comprising 1 400 apartments situated in 44 four-storied buildings. There are different type of apartments such as studio, 1-bedroom or 2 –bedroom offering variety of floorage and exposure. All units are luxuriously finished and equipped by the Developer, who can also provide a suitable furnishing offer. The settlement is relatively divided into two parts which completion is planned for 2010.
the development is located in the outskirts of Bulgaria's top summer resort Sunny Beach, only 3 km away from fine sandy beaches and plenty of entertainments. The ancient and picturesque Nessebar town, representing part of a world cultural heritage protected by UNESCO, is at a distance of 7 km, at the same distance of 7 km away from the second modern golf course that will be constructed in our country near the town of Kableshkovo. The settlement is 15 km away from Burgas International Airport and 95 km from the one in Varna.
From 2008 Developer operates regular transportation for owners and guests between the settlement, complexes and the centre of Sunny Beach.rice:
390 euro per sq.m. - from 9 750 euro per unit
Deposit
To reserve a property in this development a deposit of 1000 eur is required.
The deposit is a non refundable amount in case through customer's fault a property is cancelled and a Preliminary Contract with the Developer is not concluded. The price quoted refers to unfurnished property.
Payment plans
First phase payment plan:
First installment of 40% - by 30th of May, 2009.
Second installment of 20% - by 30th of July, 2009.
Third installment of 20% - by 30th of September, 2009.
Fourth installment of 10% - by 28th of February,2010.
Final fifth installment of 10% - by 31st of March ,2010.
Second phase[houses 21-44]*
First installment of 20% - by 30th of May,year 2009
Second installment of 20% - by 30th of November , year 2009
Third installment of 20% - by 30th of April ,year 2010
Fourth installment of 20% - by 30th of August,year 2010
Fifth installment of 10% - by 30st of December,year 2010
Sixth final installment of 10% - by 30th of June,year 2011
Amenities
Gallery